The world of Pinball is fun and exciting for the whole family. The Bright and Bold pinball machine has become the centerpiece of many of today's home game rooms. I have been repairing machines since 1970 in the Sioux Falls, SD area and have restored hundreds of games, repairing both the older style EM (Electro-Mechanical) and the newer Solid State style.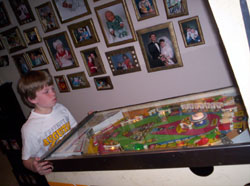 I charge a Fee to cover shop, transportation, parts/inventory, insurance, etc. and a reasonable hourly rate for the complexity of the work being done.
I will try to give you an estimate when you first bring a Machine in for service but often it is difficult to tell what you are dealing with until you get to working on a game. If I need to install parts they are at my cost. I will provide warranty for 30 days only on the parts and the actual things that I repaired -- like a newly installed part, coil, rubber, etc. that fails or a wire that was soldered but has broken loose again type problems. Any other problem will result in a parts and labor charges.
If any machine needs to be taken into my shop for repairs I can pick it up from your place as long as it is a no step situation, you will be charged for the time needed to pick up the game, do the repairs and return it. Extra fees will be charged if the game must be disassembled or carried up or down stairs. I prefer you bring the game to me, call for instructions how to move it and for an appointment to bring it in.
I drive a one ton van to you so if your Game should need to be picked up and come into the shop for the more extensive repairs it can be loaded with a hydraulic lift gate and carried safely out of the weather to be repaired in a smoke free facility.
Unfortunately due to the high cost of fuel, customers that are outside of the Sioux Falls, SD area will need to pay extra mileage fees.
Please give me a call CELL 605.351.5705